What is Your Content Supply Chain Strategy?
With the expansion of available 5G bandwidth poised for take-off, manufacturers, retailers and product marketers everywhere are feeling more pressure than ever to embrace the exploding opportunities supported by the integration of augmented reality (AR) within their sales processes.
New AR-based tools enhance the shopping experience, engage and excite customers, and accelerate the sales process by helping buyers visualize products in entirely new ways that are revolutionizing the way business is done. Market leaders are acutely aware of the coming sea change and have been plowing ahead to gain ground and position themselves at the forefront.
As an example, apps such as Wayfair's Room Planner 3D, Ikea's Ikea Place, Amazon's AR View, and Houzz's View in my Room 3D (part of the Houzz App) to name just a few are paving the way to the future by revolutionizing the home furnishing category shopping experience; allowing customers to view furnishings and décor in their own homes, virtually, before they buy.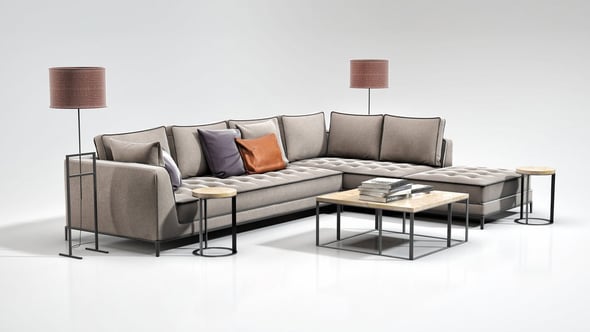 Living Room Set by Halo Renders 3D Artist
In particular, by offering the ability to view large furniture items in the home—with no heavy-lifting or expensive shipping required—these new tools not only enhance and accelerate the buying process, but also herald new potential for reducing costs inherent in product return and exchange cycles, while simultaneously fostering new efficiency in product supply chains.
The home furnishings category is only one small star in a vast AR universe that shows promise in every direction. From medical devices to food and beverage, to apparel—to virtually any product that exists in a three dimensional form—the benefits of visualization tools that showcase products like never before and reduce if not eliminate barriers of time and place seem limitless.