It Starts with a Vision
For the restaurateur, creating the perfect restaurant ambience is a challenge that takes time, creativity and hard work to develop. From selecting the right location, to choosing table linens and dinnerware, to developing unique menus—all elements must work in concert to bring his or her vision to life.
What starts as an idea evolves into a unique plan for weaving together color, texture, sound, and light in perfect harmony to connect with the senses and create an ideal backdrop for the dining experience.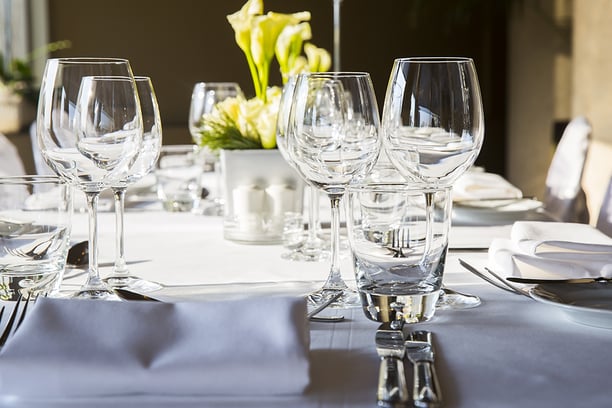 Tabletop Design
Developing a tabletop vision is one element of the ambience equation that always receives particular care and attention as a subtle yet powerful differentiator that sets the stage for the perfect meal. Weight, shape, color, and pattern all work together to evoke emotion and feed the dining experience.
For the discerning chef, choosing the right combination of place settings, flatware and glassware can make all the difference in the world. The right choices can punctuate the dining experience and augment a memorable meal.
In the past, exploring tabletop options was at best an arduous process, limited by the ability to find and source available options—at times leading to unsatisfying results. But advances in 3D visualization have ushered in a sea change that is shattering the limits long set by the physical constraints of brick-and-mortar bound options and painful catalog-based searches.
Today, utilizing 3D rendering and a well designed software application, art and technology come together to bring an infinite number of tabletop options directly to the desktop of restaurateurs, chefs and their business partners worldwide.
Dinnerware, Glassware & Flatware – in 3D
Recently, Halo Renders had the opportunity to work with Hanson, Inc., an Ohio-based creative agency, on developing a web-based tabletop selection solution for The Oneida Group, Inc.
Hanson's 3D render based application— 'Plate Envy'—all but revolutionizes the tabletop design and acquisition process. Utilizing gaming technology and an intuitive user interface, Hanson's solution supports tabletop selection based on a three step process: 1. Discover. 2. Visualize. 3. Sample.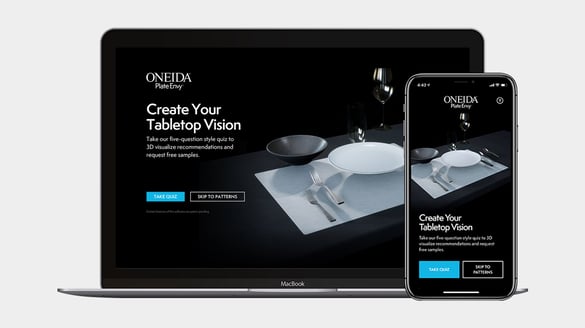 Image provided courtesy of Hanson, Inc.
The process begins with a 5-question 'style quiz' which helps users narrow the options to meet their design criteria. Based on a restaurant's style, setting and cuisine, Plate Envy returns a list of recommendations and lets users select patterns of glassware, dinnerware and flatware that suit their needs. Selections can then be combined to create a virtual table setting that can be viewed in 3D.
Users can also bypass the Quiz and browse selections at their own pace.
Over 200,000 Place Settings – Rendered in Real time
How much time does Plate Envy save for its users? Consider this: Onieda currently offers 458 products and 120 different patterns—and that equals an eye-popping 200,000+ place setting combinations. In addition to ruling out styles that won't work, the speed at which users can find the styles that will work—and the ease of doing so—are unmatched.
Once a final decision is made, a sample order can be placed with a few clicks to view selections 'in person' and ensure the best choice.