There is no doubt visual content plays a critical role in generating interest and sales. Websites, articles and magazines are almost always complemented by visuals to create a compelling experience for the audience. But as better and faster 3D technology rolls out, we can't help but consider how online platforms will transform.

E-Commerce is Evolving!
Technology continues to move very rapidly so it is essential for all levels of entrepreneurs and corporate executives to start thinking about new ways to market in order to boost sales. Today, we find many companies still hanging on to the old 2D catalogue image mentality in their online stores. Unfortunately... this means their selling themselves a little short to an ever-increasing online consumer base. How so?
They're not taking advantage of 3D visualization!
3D technology opens up many possibilities for online marketing, whether it's selling home furnishing, apparel, industrial hardware, or architectural services. It's a great tool to create media of all kinds which gives you the flexibility to market to your audience however you'd like. So, if you're trying to: increase sales, provide a positive shopping experience, engage your clients in an immersive way, and stand out from your competition, you should start considering how your company can benefit from it!
What is 3D Visualization?
3D visualization is the use of technology and artistry to create lifelike computer generated imagery. This includes photorealistic product models, 3D renderings, animations, and VR/AR. Its applications are widespread amongst companies in the product and architecture industries, such as Ikea, Joybird, and Hanson
The beauty of visualization is how it future-proofs your media. Once completed by the 3D team, they can be repurposed and propped in any additional scenes and platforms! This saves a lot of time for those who need diverse content for their advertising and retailing needs.


3D Use Cases
Whether you need to market a product still in development or perfect footage of your product in action, 3D technology is in no doubt the best solution to your problems. Below, you will find out more about different 3D techniques and which platforms they're commonly used on.
Interactive 3D Models
3D models are made up of calculated points and geometry created by hand, algorithmically, or scanned (Check out EinScan's 3D scanner!), meaning they can be extremely detailed and accurate representations of real products. You can embed 3D models in your website for your users to interact with. Alternatively, there are third party platforms, like Sketchfab, to embed or share 3D models via links.
These methods play a great role in making online shopping more exciting. The ability to rotate and manipulate a digital replica will give the user better confirmation than still images. What are the Nike Air Jordans materials like up close? How will my house look like before I greenlight the renovation? Will this blender fit in my kitchen space?
3D Renderings
Another impactful way to showcase your product is using photorealistic 3D renderings (or stills). It's like a screenshot of a staged scene outputted by the 3D software. Some may question the practicality of renderings in place of photography, but it's actually very cost and time efficient because you are not limited to a physical location or props. Scene settings and variations are simple to customize because you can change the position, size, color and shape of any object and then rerender. Need a white studio background? Done. Think it will look better dark gray, instead? No problem. This form of 3D is enticing for companies who want impactful visuals on their marketing materials and websites.
3D Animations
3D animation offers the potential to connect to your audience on a new level by showing impressive shots of the product in action paired with amazing effects. It allows us to actualize conceptual ideas that would be normally be impractical, or simply impossible, to film. 3D animations can be so realistic to the point where the audience doesn't even realize it's even 3D. For example, many of the cars depicted in car commercials are actually 3D.
Virtual Reality/Augmented Reality
Simulated real spaces using virtual reality (VR) offers your audiences immersive experiences. Imagine getting to explore any space or environment with a 360 degree view as if you were right there. VR is especially handy for architectural services because it provides straightforward spatial information.
Augmented reality (AR) is the projection of a 3D object onto onto a feed or footage of real-life spaces. Being able to visualize products in your own home could be the difference between making a sale or not. This technology is the next step to impressing your customers which is why you see companies like Amazon has already started taking advantage with View in Your Room.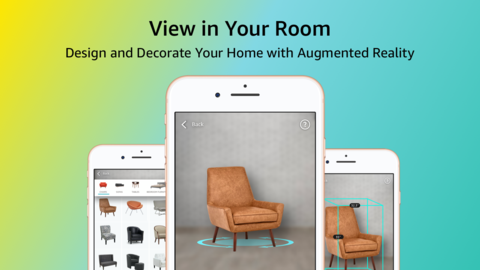 You can learn more about all our 3D product rendering services here:
3D Product rendering - studio - Choose black, white or other solid color background of your choice.
3D Product rendering - placement - Place your product in a scene or environment.
3D Product rendering - creative - Use color, style, and other visuals to 'tell your story' and amplify your brand.
3D Packaging rendering - Visualize your new product or update a tired look!

Visit our parent company, Halo Media Works for 3D assets for AR/VR: