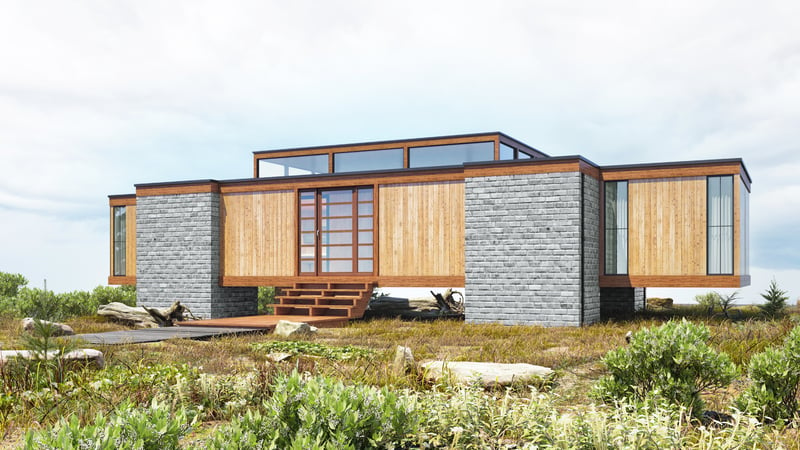 Halo Renders is a leading provider of 3D rendered homes for the residential real estate market, serving architects, real estate brokerage firms, and real estate agents as well as individual homeowners.
We deliver a wide variety of projects from houses, cottages, and cabins to small apartment buildings, condos and duplexes. On the commercial side of our business, we also offer 3D renderings for warehouses, restaurants, hotels, museums and more! So as you can imagine, we see a wide variety of project submissions from a broad array of clients, including those experienced in specifying 3D rendered house projects and those who are just getting started.
Particularly if you're requesting a 3D house render for the first time, it can be a bit daunting. What's the best way to communicate your vision for your project? What details should you include? How can you make sure the final result matches the image of your home the way you see it in your mind? And what can you do to make your home stand out in the marketplace?
We've put together some tips and ideas to help you address all aspects of your project—and help you achieve the results you're after!
Getting Started
Begin with the end in mind! As you begin gathering details for your project, keep the following details in mind to be sure you cover all the bases—and make your project shine!

1.) When you submit your initial project quote request, it's important that you include a CAD file (or Architectural Drawing) of your home. This file is essential and required by our team in order for us to determine house dimensions, placement of windows, doors, and other features.

2.) You'll also want to include Photographs or other reference materials such as sketches or color swatches to illustrate your desired look/feel (siding type & color, window & door types, and other architectural details) and landscape.

3.) Gather all your files! Collect all your files before submitting your quote! You can upload files with your quote request or add the URL to a linked folder - such as Dropbox or Google Drive.

4.) A few things to think about that may be less obvious include: lighting, landscaping, and seasonal considerations. To show your home at its best, give some thought to how each of these characteristics will impact the look-and-feel of your home!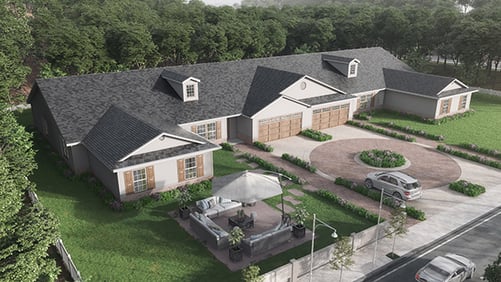 LANDSCAPING
Location, location, location! Landscaping is crucial to creating the right backdrop to showcase your 3D rendered home. The right landscaping helps buyers and business partners alike understand your vision—and helps you deliver a more compelling presentation.
In addition to the location of your home—whether that be in a suburban or urban setting, by the shore or near the woods or other location. Be sure to consider the types of plants and vegetation that make sense for your particular geography.
Some ideas include:
Traditional - manicured lawns and flower beds; oak, pine, and elm trees
Southwestern - dry/arid look-feel, sand, stones, succulents, cacti
Tropical - palm trees, mangroves, blue skies, sand, ocean, lush greens
By-the-Shore - seagrass, beaches, sand, rosa rugosa, hydrangeas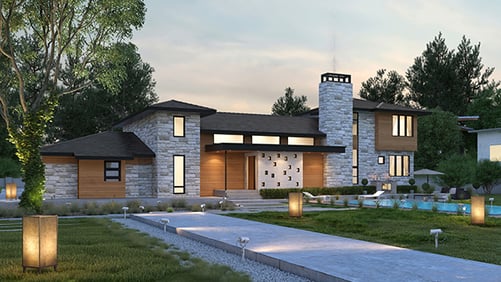 LIGHTING

At Halo Renders, we can offer near infinite lighting options to present your home in its best, most complimentary light! From the brightest sunshine to the deepest sunset to the darkest night, we've got you covered.
Our designers can also deliver multiple versions of your home showing different lighting options at your request.
Just some of our available options include:
Filtered Light - tone your lighting to complement colors and scenery.
Daylight - mimic natural light from the sun or sky.
Sunset - customize your sunset in a variety of color waves from pinks to oranges, yellows and reds, purples and blues. Deep rich colors or soft hues.
Dusk - just enough darkness to highlight exterior lighting fixtures.
Nighttime

- deep blue skies, highly reflective water surfaces, and lighting that 'pops'.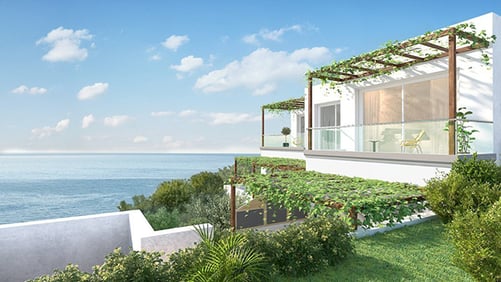 An important question to consider when planning your 3D rendered home exterior is: what season will best compliment your property? The type of property itself may make your choice obvious.
For example, a summer cottage or a winter ski lodge! In other cases, choosing a season that compliments your exterior home color or helps to punctuate particular color accents or home features can make the difference that sets your home apart! Coonsider all seasons before you choose. The best choice may surprise you!
Fall/Autumn - earthy tones - red/gold/brown accents, stunning colored trees
Summer - warm colors, bright blue skies, reflected sunlight, blooming gardens
Winter - cool tones, white skies, snow, evergreens
Spring - light green leaves, turquoise skies, flower buds, tulip gardens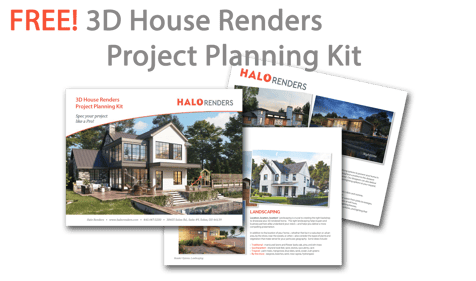 Download our FREE Project Planning Kit for additional examples & ideas!
Or, if you're ready to get started, you can request a quote here - or contact us here with any questions!